Entrepreneur Dimitrius Mayo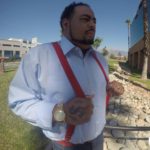 The CEO of Rise 2 GRIND thought of the idea after discovering his own talents. Dimitrius Mayo believed that going to work day after day and not getting gratification could lead individuals into a state of depression, believing that there was no way out of the rat race.
After considering his own talents, he learned how to capitalize off of them and turned his unique skills into profit. However, the lack of knowledge regarding business prevented him from reaching his company's full potential. After understanding the setbacks and obtaining the knowledge of how to successfully run a business, Mr. Mayo set on a quest to help others that viewed themselves as talented without the knowledge of how to capitalize.
More Info Visit: www.Rise2GrindFoundation.com