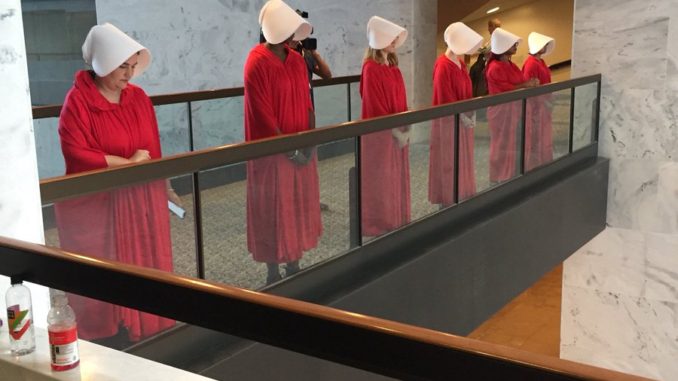 I take it all of that yelling in the background at the #Kavanaugh #SCOTUS hearing is coming from Democrats calling for civility and bipartisanship.

— Tom Reynolds (@Beregond) September 4, 2018
The scene outside Judge Kavanaugh's confirmation hearing this morning. #SCOTUS pic.twitter.com/FkCsjbsaWw

— Kevin Daley (@KevinDaleyDC) September 4, 2018
Senator Blumenthal. "Mr. Chairman. If we cannot be recognized. I move to adjourn!" Yes, Yes, Yes! 43,000 pages of documents on Kavanaugh released last night. Merrick Garland was obstructed on Supreme Court vote for 293 days. This is a mockery of the institution of law #SCOTUS

— ♻️🇺🇸 Christopher Zullo (@ChrisJZullo) September 4, 2018
There has been more time to review documents for Judge Kavanaugh than for Justices Sotomayor and Kagan. #SCOTUS #KavanaughHearing

— Senate Judiciary (@senjudiciary) September 4, 2018
Washington (CNN)Senate Democrats disrupted the start of the Judiciary Committee hearing of Supreme Court nominee Brett Kavanaugh Tuesday morning.
Sens. Cory Booker, Richard Blumenthal, Kamala Harris and others interrupted Judiciary Chairman Chuck Grassley's attempt to launch the hearing, repeatedly decrying what they say are missing documents and emails from Kavanaugh's time as a White House lawyer from stacks released this summer. An additional 42,000 documents were released Monday night.
President Donald Trump's second Supreme Court nominee is poised to succeed swing vote Justice Anthony Kennedy, the conservative-centrist who joined with liberals in some key decisions to uphold abortion rights. Kennedy was also the decisive vote for same-sex marriage and university affirmative action.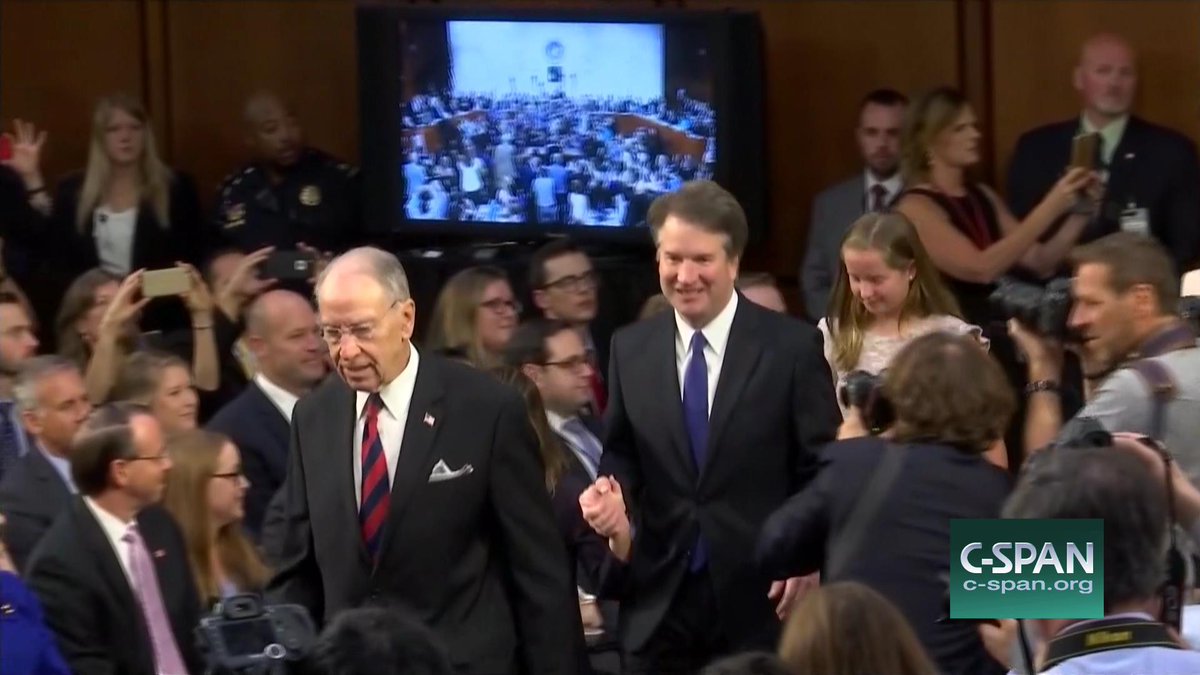 A spokeswoman for the Capitol Police said that as of 10:19am EST, 22 individuals have been arrested so far this morning. They have been charged with disorderly conduct.
At least half a dozen more protesters were removed from the hearing room since then. Police say they will update the count at the end of the day.
Meanwhile, the White House is apparently tallying the number of times Democrats have interrupted the hearing.-The Guardian 
We're disrupting the Kavanaugh hearings every few minutes, with hundreds of women prepared to get arrested to prevent these hearings from moving forward.

Make a donation today to support the brave women organizing to #SaveSCOTUS and #CancelKavanaugh!https://t.co/z8qeZlrJHt

— Women's March (@womensmarch) September 4, 2018
GRASSLEY: "Reviewing Judge Kavanaugh's Staff Secretary documents would teach us nothing about his legal views."
KAVANAUGH IN 2015: Time as Staff Secretary "among the most interesting and most formative for me."#WhatAreTheyHiding pic.twitter.com/F1vBOdceLj

— Senate Democrats (@SenateDems) September 4, 2018
Judge Kavanaugh's confirmation hearing starts today, and women's constitutionally protected freedoms hang in the balance. https://t.co/XOU6kb9xPu

— Senator Patty Murray (@PattyMurray) September 4, 2018
So who's Bill Burck, the guy who decided which Kavanaugh docs were released? Among other things, he's Steve Bannon's lawyer. #SCOTUS pic.twitter.com/KBCwiqJKg8

— shauna (@goldengateblond) September 4, 2018
The Minority receives the same amount of @SenJudiciary funds for resources/staff as the Majority. The Majority staff has reviewed all Kavanaugh documents. The Minority says they need more time. Why can't the Minority work as efficiently as the Majority? #DelayTactics #SCOTUS

— Senate Judiciary (@senjudiciary) September 4, 2018
"This is something I've never gone through before in 15 Supreme Court nominations," Senate Judiciary Chair Chuck Grassley says of Democrats' repeated motions. https://t.co/3WYaYat42c https://t.co/wdMz4snqQM

— ABC News (@ABC) September 4, 2018
.@amyklobuchar: "I would like to know, Mr Chairman, if you have another example of a time when executive privilege was invoked to block the release of presidential records to the Senate during a Supreme Court nomination."

GRASSLEY: …. pic.twitter.com/ntYkF4RDfp

— Aaron Rupar (@atrupar) September 4, 2018
LOTS more protestors disrupting Grassley remarks from the back of the hearing room. Starting to seem like the whole public section is protestors speaking up and getting thrown out one at a time. pic.twitter.com/14ECtppakd

— Garrett Haake (@GarrettHaake) September 4, 2018
More pro-abortion activists disrupting the Senate Supreme Court confirmation hearings screaming about women's rights. They are immediately whisked out by security and do nothing to truly stop the Kavanaugh hearings. They forget about the rights of women before birth. #SCOTUS pic.twitter.com/WMkAaiIHUI

— LifeNews.com (@LifeNewsHQ) September 4, 2018
The Senate Judiciary Committee's hearing on Supreme Court nominee Brett Kavanaugh devolved into chaos nearly as soon as it began on Tuesday, with Democratic senators talking over Republican committee chair Chuck Grassley and protesters shouting inside the room for lawmakers stop the hearing and vote "no."-VOX
Hours before hearing on whether Kavanaugh should have a lifetime seat on #SCOTUS, 42,000 new documents related to his record were dropped on the committee. This whole process has been tainted with unprecedented obstructionism since the start. https://t.co/SZOf8qJB3h

— Sen. Cory Booker (@SenBooker) September 4, 2018
By my count, in the opening 30 mins and this Democrat tantrum, well over a dozen references to documents, and ZERO references to Judge #Kavanaugh cases, votes or record as a judge for the past 12 years. #SCOTUS

— Raj Shah (@RajShah45) September 4, 2018
I don't know about you, but if I was a #SCOTUS nominee and I had absolutely nothing to hide, I would stand up in the middle of my Supreme Court confirmation hearing and demand Republicans release all documents pertaining to me!

Brett Kavanaugh, what the hell are you hiding?

— Ed Krassenstein (@EdKrassen) September 4, 2018
Brett #Kavanaugh spent 12 years on the second-most influential court in the US, writing ~300 opinions–13 of which #SCOTUS adopted & only one reversed–all in his own name. The allegation there is not sufficient evidence for the Senate to advise on his nomination is nonsense.

— Ryan Fazio (@ryanfazio) September 4, 2018
Grassley says he directed the National Archives not to release certain Kavanaugh documents because they were "least useful in understanding his legal views and the most sensitive to the executive branch."@ChuckGrassley should not get to singlehandedly decide this. #SCOTUS pic.twitter.com/0iP33mpm8W

— Amee Vanderpool (@girlsreallyrule) September 4, 2018
The Democratic Minority is forced to resort to phony process complaints because they have no objections to Judge Kavanaugh's jurisprudence, character or qualifications. #DesperateDelayTactics #SCOTUS #KavanaughHearing

— Senate Judiciary (@senjudiciary) September 4, 2018