Canada signs Comprehensive Trade agreement Davos Trump and NAFTA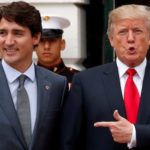 The World Economic forum (WEF) closed out yesterday in Davos-Klosters Switzerland. Prime Minister Trudeau was present for the conference and was positive that Canada's decision to sign the Comprehensive and Progressive Agreement for Trans-Pacific Partnership (CPTPP) without the United States would benefit the Canadian economy.
The Agreement was signed on January 23rd, the opening day of the WEF in Montreal Canada and the 10 other member states concluded discussions in Tokyo, Japan. The deal is expected to increase Canada's GDP by $4.2 billion.
Canada also secured a new preamble that includes important progressive elements. These include reaffirming our right to regulate in the public interest; promoting Labour rights, environmental protection and conservation, preserving cultural identity and diversity, promoting corporate social responsibility, gender equality and Indigenous rights.-Government of Canada
While the Canadian government is confident in the new deal critics argue that this could complicate NAFTA talks with the United States where President Trump has gone as far as threatening to disembark the whole deal. Last April however the White House was singing a different tune releasing a statement after President Trumps meeting with Mexican President Peña Nieto and Prime Minister Trudeau.
Both conversations were pleasant and productive. President Trump agreed not to terminate NAFTA at this time and the leaders agreed to proceed swiftly, according to their required internal procedures, to enable the renegotiation of the NAFTA deal to the benefit of all three countries. President Trump said, "It is my privilege to bring NAFTA up to date through renegotiation. It is an honor to deal with both President Peña Nieto and Prime Minister Trudeau, and I believe that the end result will make all three countries stronger and better."-The White House Press. –April2017
Prime Minister Justin Trudeau sat down with U.S. corporate and financial leaders Wednesday for a private roundtable at the World Economic Forum in Davos, Switzerland, to discuss the importance of the North American Free Trade Agreement and its potential modernization.
"We just had a great conversation about all the jobs in Canada and the U.S. that rely on NAFTA,"-Global