Former Bosnian Court General drinks poison In Court after being sentenced for Crimes commited during War Times.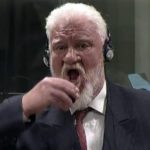 A former Bosnian Court General Slobodan Praljak was sentenced to 20-years for war crimes he committed during his time as General.  The General declared, "I am not a war criminal" when his sentence was upheld by UN judges on Wednesday.
Praljak then indicated to the courts that he drank a poison that he smuggled into the courtroom via a small bottle after which he was rushed to a hospital where Slobodan later passed away.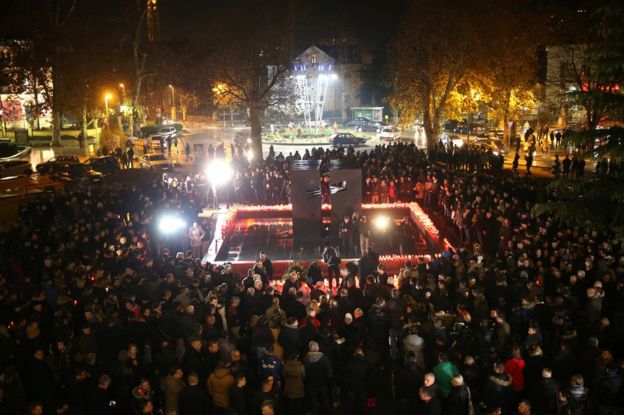 Praljak was 72 at the time of his sentence which means he would have been 92 upon his release. He was a philosophy professor and theatre director. After news of his demise, hundreds gathered in Mostar to mourn the passing of the convicted war criminal.
The International Criminal Tribunal for the former Yugoslavia upheld the sentence which would have to be served for a minimum of 10 years and a maximum of 25 years. 5 other Bosnian and Croat wartime political and military leaders were also convicted for their part in a plan linked to Croatia's late former president Franjo Tuđman to systemically discriminate, commit acts of violence against, and to deport Muslims.
However, Croatian President Kolinda Grabar-Kitarović went on television to say Croats needed to admit that some of their compatriots had committed crimes in Bosnia.

In Bosnia itself, Dragan Čović, the Croat member of the tripartite presidency, said his suicide showed "what sacrifice he was ready to make" to show he was not a war criminal.-BBC
While many are questioning how Praljak got the poison inside the court, it was reported that the devices that scan for deadly weapons do not pick up substances specifically the poison he has on his person.
Praljak among other things was convicted of murder and inhumane treatment.
There are questions about how Praljak acquired the substance, and whether it was supplied to him by a visitor to the fortress-like UN detention centre in Scheveningen, near The Hague, where Praljak was being held.

Under court rules, everyone entering the detention centre is subject to tight security "irrespective of his or her status, nationality, function or age". Everyone must pass through security scanners and there may also be a search of clothing.

Detainees are allowed to have access to their medications, administered under the supervision of the chief medical officer. They are allowed approved visits from personal doctors.

The Dutch newspaper NRC said many of the suspects there were elderly and "suffering from all sorts of illnesses". It said it was "not unusual that he could have brought his medication to hearings".-The Guardian
What Twitter has to say:
Good riddance! Fuck him and every #croatian who is mourning over his death. I will #Prost, #Cheers, #proost to his death Take him to the garbage disposal. #Praljak #Slobodan pic.twitter.com/xy46jPgvsm

— Karma4U (@anti_monarch) November 29, 2017
The pictures of #Slobodan #Praljak ingesting the poison can only compare to this eerie one. pic.twitter.com/3A64JEVXH5

— O_D_G ?? (@odongobrian) November 29, 2017
#Slobodan #Praljak did not go gentle into that goodnight. #Hague has committed murder. (Was he not in custody?)

— Udochukwu (@udochukwuosuji) November 30, 2017
Remember the Bo Selecta Craig David mask? This is him now. Feel old yet? #Slobodan #Praljak #ICTY #Sky #BBC pic.twitter.com/JZgNzeREAd

— Jack Poynter (@JPoynter91) November 29, 2017
Everyone is talking of #Slobodan #Praljak taking poison at #ICC but where did he get it? @BBCBreaking @cnnbrk @KTNNews The court didn't take him perhaps seriously of his claims

— L Kwen MCA Barchiba​ (@JKBarchiba) November 29, 2017
#Catholic #Bosnian #Croatian #WarCriminal #Slobodan #Praljak (72 Years old) drinks poison and #dies as #UN #WarCrimes #Tribunal #Judge reads 25 year sentence! https://t.co/03galm13Pc #FoxNews

— George Cee (@MrGeorgeCee) November 29, 2017
(4.5x) #RIP #SLOBODAN #PRALJAK, #CROATIAN #FATHER, #SON, AND A #HERO #PAY YOUR #RESPECT TO https://t.co/ryiMy1VrOh pic.twitter.com/rswlZaU5QN

— /pol/ BREAKING Bot (@polbreaking) November 29, 2017
A crime is always a crime no matter if it takes place during wars and any war is the biggest crime.#WarCrimes #death #suicide #Croatia #Balkans #Yugoslavia #Bosnia #poison #Peace #RIP #Slobodan #Praljak #Europe #war

— Georgios Tselepidas (@tselepidas) November 29, 2017
Absolutely beautiful
you are my hero
God bless you #Slobodan #Praljakhttps://t.co/GlS0pYujLg

— Changiz M. Varzi (@ChangizMV) November 29, 2017
La suicide de #Slobodan Praljak dans la salle d'audience de la #CPI démontre encore une son inefficacité. Ce court est tout simplement du Canular.Des réformes dans cette court sont indispensables.

— menyimana philotaire (@philotaire) November 30, 2017
#Slobodan Praljak, exgeneral bosniocroata, se suicidó al ingerir veneno durante la lectura de su última sentencia de apelación en el Tribunal Penal Internacional para la Antigua Yugoslavia por crímenes de guerra. pic.twitter.com/ZM7yjNKklm

— OSCAR MARIO BETETA (@MarioBeteta) November 30, 2017