Libya and Modern Day Slavery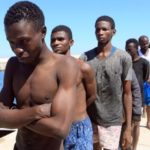 Libya which means servant in Arabic has had a long-standing issue with slavery and various human rights violation; and, the small nation has been in the media this week for recent reports that the slave run country refuses to acknowledge UN sanctions in regards to Human Rights.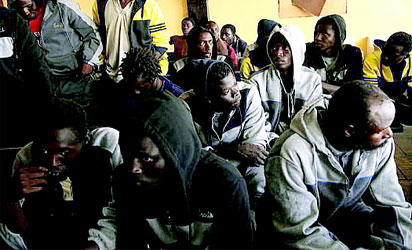 Protests meanwhile took place outside the Libyan embassies in several other African capital cities including Bamako, Mali and Conakry, Guinea over the weekend. Another protest is planned in London later this week. A protest outside the Libyan embassy in Paris spilled out into the famous Arc De Triomphe roundabout at the heart of the French capital. -DW
The media wildfire started when Libya's UN-backed government started a probe into the allegations of hundreds of African refugees disappearing and presumed to be passing through Libya to be bought and sold as modern day slaves.
The UN held a session this past Monday and many of the speakers urged urged for their to be a formal investigation into the issue.
UN Secretary-General Antonio Guterres said in New York on Monday that "slavery has no place in our world and these actions are among the most egregious abuses of human rights and may amount to crimes against humanity," appealing to the Libyan leadership to investigate these cases and bring those responsible for the slave trade to justice.-DW
What Twitter Has to Say:
Discussed with PM Serraj of Libya how to cooperate to bring perpetrators of slavery and human trafficking to justice. #AUEUsummit. pic.twitter.com/iaXflLTBtb

— Donald Tusk (@eucopresident) November 28, 2017
[WARNING: Graphic Content] @CNN reports on the slave trade market in #Libya. pic.twitter.com/twvUYuBQsd

— COMMON (@common) November 28, 2017
The slave trade in Libya must be stopped. The west used Military force to help the rebels remove Gaddafi. I believe that gives the West the moral obligation to get this country back on a healthy footing. Remove the slave holders by force and help establish a stable leadership

— LLCOOLJ. (@llcoolj) November 28, 2017
BREAKING: Jury acquits suspected Libyan militant of most serious charges in Benghazi attack trial.

— The Associated Press (@AP) November 28, 2017
Slavery exists. TODAY. In Libya and beyond. I found this article incredibly informative in how we can help. Please have a read and share. And thank you @bustle. More outlets should we talking about this. https://t.co/nPGkxMADWX

— Tessa Thompson (@TessaThompson_x) November 28, 2017
I REPEAT FOR THE MILLIONTH TIME: The presidents tweets have real impact on the world. There are slave auctions happening in Libya, and the president's childish social media antics allow the powerful in Libya an out. https://t.co/v3eaqFWhJa

— Jessica Huseman (@JessicaHuseman) November 28, 2017
Libyan media is questioning authenticity of CNN's slavery report after tweet by President Trump calling CNN international "a major source of (Fake) news" https://t.co/auHp8Wiw2X @akhbar

— Jenan Moussa (@jenanmoussa) November 28, 2017