Ontario PC ministers urge PM Trudeau to chuck pricey carbon tax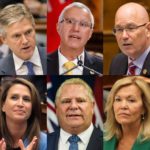 The long-proposed Carbon tax that has been a part of the liberal governments plan to eradicate or at least lower carbon emissions as a ploy to slow global warming is now under attack again from the PC party. After the last voting session which saw the PC party in a majority, the ministers are using their collective voice to try to stop or curb the carbon tax.
Ontario's attorney general and environment minister are urging the federal government to not impose a "job-killing" carbon tax in their province, and warning they are already working on two court challenges to fight the potential tax.

Attorney General Caroline Mulroney and Environment Minister Rod Phillips were expected to announce details about Ontario's PC government canceling the cap-and-trade program — the costs of which are still unclear — but instead used the news conference to attack the federal carbon tax that could replace it.-CBC
The fed gov'ts imposed carbon tax will devastate economies across Canada. This morning, the Ont govt announced their plan to challenge the carbon tax in court in Ont & intervene in our challenge in SK. It's time to let the provs decide for themselves what works best on climate. pic.twitter.com/CXkQI8rmQw

— Scott Moe (@PremierScottMoe) August 2, 2018
The pricing system which will take effect on January 1, 2019 has already been tweaked by the Trudeau government in an attempt to stay competitive while taking in the opinion of the opposition party.
The extent to which the competitiveness of industrial sectors or specific facilities within a sector may be impacted by carbon pricing is largely determined by two factors:
the carbon emissions intensity associated with the production of the products of the sector or facility (the carbon emissions per unit of net output is representative of the cost exposure of the sector or facility to carbon pricing); and

the extent to which facilities in the sector are able to pass on the costs of carbon pricing without significant loss of market share, an indicator of which is its degree of trade-exposure.-Gov.canada
After making the ridiculous argument for years that paying a Carbon Tax would somehow attract investment into Canada, Justin Trudeau is now retreating. It's a clear admission that he's wrong. pic.twitter.com/xrnTXlSpiW

— Andrew Scheer (@AndrewScheer) August 2, 2018
My first act as Prime Minister will be to repeal Justin Trudeau's Carbon Tax. Canada needs to be open for business. We need to create jobs and opportunity for Canadians everywhere. And together, we can do just that. 10/10

— Andrew Scheer (@AndrewScheer) August 1, 2018
OTTAWA—The Trudeau government is scaling back its carbon tax plan over concerns about competitiveness, a move being hailed by Ontario's environment minister as a welcome "climb-down" and decried by environmentalists as putting short-term economic interests ahead of the health of the planet.-Toronto Star

After 2 years of saying that a carbon tax would not affect Canada's competitiveness and hurt our economy, the fed govt just admitted that it actually will.

They have announced they will now reduce the amount of tax companies are required to pay on their greenhouse gas emissions. https://t.co/RJp8BiHNi6

— Scott Moe (@PremierScottMoe) August 1, 2018

The carbon tax is bad policy, period. Good only for collecting more money for politicians to spend. It does nothing to reduce emissions & it hurts Canada's competitiveness ( jobs and the economy!). Libs have in effect just admitted this,so why don't they scrap it for everyone? https://t.co/uCzgtV4eVg

— Candice Bergen (@CandiceBergenMP) August 1, 2018

Under the new plan, which Environment and Climate Change Canada quietly published online last Friday, Ottawa will deliver higher rebates to heavy emitters as part of a strategy to keep them competitive and to discourage them from relocating to places where regulations are less expensive.-Toronto Star

The plan is expected to target four major sectors:
cement
iron and steel manufacturing
lime
nitrogen fertilizers
These sectors are some of the largest Carbon emitters and  "Ottawa will tax companies $20 for every tonne of greenhouse gas they emit, a levy that will ramp up to $50 per tonne in 2022.-Toronto Star" Since joining the Kyoto protocol in 1992 Canadians have expressly expressed their interest in lowering carbon emissions and becoming a leader in fighting climate change, a moot point the Trudeau government ran on in the last election.
CANADA'S CARBON TAX IS SO IMPORTANT IT'S GOING TO SAVE THE WORLD AND ONLY MONSTERS DISAGREE

<sotto voce> That's why we're scaling it back significantly…

— Jason Lietaer (@jasonlietaer) August 1, 2018
BC has had a carbon tax for years yet has consistently led Canada in economic growth.

— Joel Grenz (@joelgrenz) August 1, 2018
Earlier this year, the federal government introduced special "output-based standards" to offset the cost of the carbon tax for heavy emitters that face tough foreign competition. Companies in these sectors were set to receive emissions credits — or rebates — worth 70 percent of what an average firm in their industry was expected to pay in carbon tax. That means they would avoid paying the tax on this portion of their emissions.

The government now plans to beef up those rebates, a move that will lessen the carbon tax load even further for these heavy emitters.-Toronto Star
It's now absolutely clear, the Ford gov't – like the Scheer & Harper Conservatives – has no climate plan. Climate change doesn't stop with a change in government. And in 2018, no climate plan = no plan for the economy. Our kids deserve better.

— Catherine McKenna ?? (@cathmckenna) August 2, 2018
Ottawa eases carbon tax thresholds to help Canada's big industries compete https://t.co/NHaE7gTT1w pic.twitter.com/B2IWlxJfjb

— National Post (@nationalpost) August 1, 2018
Canada did not reduce its carbon tax. It altered the baseline emissions intensity (emissions/production), above which the tax is paid, for different industries. This is because of trade (or 'leakage') concerns, i.e. Trump killing US climate action and starting a trade war.

— Simon Donner (@simondonner) August 2, 2018
Consider this:
We may be headed for another record year for raging wildfires, topping LAST YEAR, another consequence of climate change.
Meanwhile, the @realDonaldTrump Admin pushes to LOWER fuel efficiency standards below even where the automakers desire!#madness

— David Axelrod (@davidaxelrod) August 2, 2018
"We've been clear since the beginning that we would consult with industry and environmental experts to find the best ways to reduce emissions, improve energy efficiency and stay competitive — and that's exactly what we've done," Environment and Climate Change Minister Catherine McKenna said in an emailed statement. "We can't afford to let big polluters off the hook."

She did not provide an explanation as to why four industries – cement, steel-making, lime and nitrogen fertilizer – are considered "high competitive risk" businesses.-The National Post
I just received an alarming email from ACEEE on Trump's roll back of fuel efficiency standards. Meanwhile Canada is rolling back it's carbon tax & buying a pipeline. Feels like we are going back decades in one year. big interests are in control of gov & our future @JustinTrudeau

— Robert Stupka (@rvstupka) August 2, 2018
It's no surprise the liars who have taken over Canada's Conservative politics would say things about liberals, the economy, carbon tax etc that aren't true. The surprise is @liberal_party does not do MORE to expose these lies – in effect, allowing CONS to misrepresent them.

— FranklyMyDear (@MrDash109) August 2, 2018
1. AB has a carbon tax that is working, get over it. 2. Ottawa does not have a ctax policy that has hurt Canada, that is a lie. 3. You should not have a job in the media, you are brutal. #PaidShill #FlakeNews #abpoli #cdnpoli

— G Aucoin (@gaucoin13) August 2, 2018
What I'm hearing is that Canada is hamstringing their own environmental measures in the name of trying to pursue high production at all costs.

Awful, awful news. But not surprising. Another broken promise from @JustinTrudeau and @cathmckenna

— James Marshall (@JamesBCGreens) August 2, 2018
The biggest polluters in the country are about to get another break.

Paying for pollution is a long-overdue, necessary, and perfectly reasonable cost of doing business for those who fail to adapt and adopt clean technologies.https://t.co/t8rqkz23Es

— Green Party Canada (@CanadianGreens) August 1, 2018
The carbon tax has been proven to work. Look to Alberta, BC and Quebec. Unemployment is at the lowest in 40 years. Trudeau has added hundreds of thousands of new jobs. Life is good in Canada. Scheer is lying and fear mongering. We cannot vote him in or we will go backwards again. https://t.co/F6eI6qYvx4

— A Seip (@aseip1) August 1, 2018
Latest GWPF Newsletter: Canada Scales Back Carbon-Tax Plans – Trump's Tax Cuts, Tariffs Force Trudeau To Retreat On Carbon Tax https://t.co/zFRJk4SNlh pic.twitter.com/MwKrdSE64N

— Climate Realists (@ClimateRealists) August 2, 2018
Like the delay in methane regs and the clean fuel standard, this weakening of the Canada's federal carbon tax underscores the need to shore up against the predictable stalling tactics of industry. https://t.co/xHdQ4v4UXc #cdnpoli #climate

— Nathan Lemphers (@enlem) August 1, 2018
You do realize there was the worst recession in basically 80 years at the time when Harper was in power and Canada still led in job growth much as we continue to do until recently when surpassed by the United States. Who does not have a national carbon tax. https://t.co/cQer0MsKN3

— Bill Brasky (@Polkameister) August 2, 2018
Carbon pollution is down, and the province's economy has out-performed the rest of Canada. Those late to the carbon tax party will miss out. https://t.co/tJoHTb5imR pic.twitter.com/5jL0hU8xbP

— EconGPS.com (@thadncs) August 2, 2018