Social Media Reacts to Kylie Jenner giving birth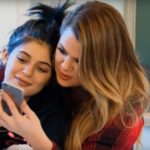 Kylie Jenner both confirmed her pregancy and the birth of her baby today via a heartfelt video displayed on social media. Jenner reportedly gave birth to a healthy baby girl on Feburary 1st.
(CNN)Kylie Jenner kept her pregnancy private, but on Sunday she shared the news of her baby's birth with the world: It's a girl!
The reality TV star made the big announcement on social media Sunday, saying she gave birth on Thursday to a "beautiful and healthy baby girl."

"Pregnancy has been the most beautiful, empowering, and life-changing experience I've had in my entire life and I'm actually going to miss it," she told her millions of followers.
So this whole time this In n out employee knew about Kylie pregnancy and never shared that info pic.twitter.com/JFNmCNC4V3

— Francisco Ruete (@franruete) February 4, 2018
Kris Jenner made Kylie announce her pregnancy on the day of Super Bowl and got all the attention. The devil works hard but Kris Jenner works harder pic.twitter.com/9x1GmjKtLy

— ً (@httpzouwee) February 4, 2018
we already knew Kylie Jenner was pregnant, but for some reason, I'm still surprised she actually was pregnant

— SOLOMON TAIWO (@ImSolomonTaiwoJ) February 4, 2018
https://www.instagram.com/p/Beyt25flQ2v/?tagged=kylie
Footage of Kris Jenner typing Kylie's pregnancy reveal: pic.twitter.com/DAxEr6FGEt

— Rafael Garcia (@iitsRafael) February 4, 2018
https://www.instagram.com/p/Beytqn3AKrQ/?tagged=kylie
kylie hid her pregnancy from the whole world for nine months and i can't even hide my feelings for an hour pic.twitter.com/Ot8HnGNuKz

— Common Girl (@SoReIatable) February 4, 2018
shut up this part from kylie's video was so cute 🙁 pic.twitter.com/fOPb5lHQ0Y

— ً (@gIossjeons) February 4, 2018
All of Kylie's friends and family are highkey real ones for respecting her wishes and keeping things private. God knows that wouldn't be the case for Selena hillsong gang and family. LMFAOOOO WE'D GET SHIT FROM "sources" THAT SAME WEEK QPEFHNQIEFONOQIN

— ariyana (@selenasmodel) February 4, 2018
https://www.instagram.com/p/BeyuweGlemj/?tagged=kylie
https://www.instagram.com/p/BeyusymFLhp/?tagged=kylie
the fbi agent assigned to me watching post "kylie pregnant pic" for the 100th time in one day pic.twitter.com/gEbMPyEzMI

— ً (@laughkpop) February 4, 2018
so kylie jenner had her baby and in her new video documenting the pregnancy, there's a clip of her in the in n out drive thru casually ordering her fries "well done". incredible.

— Lauren Sanderson (@laurenthellama) February 4, 2018
kylie jenner at 20: has a baby, is in a relationship with travis scott, & has multimillion dollar businesses & a mansion

me at 18: has to retake calc for the 3rd time, struggles to decide which meal to get at taco bell, & switches majors faster than kim k switches hairstyles

— saad salman (@_saadsalman) February 4, 2018
Super Bowl: ALL EYES ON US TODAY

Kylie: *drops pregnancy video*

Kris Jenner: pic.twitter.com/AgrvDoSPFr

— Shauna DeBono (@ShaunaRDeBono) February 4, 2018