South Africa and the #CabinetReshuffle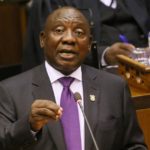 The South African government is going through a restructuring within their cabinet and the long standing battle to lower corruption within the cabinet is now trending on twitter.
South Africa's new President Cyril Ramaphosa  was described in a press conference early Monday the "kind of leader that South Africa needs at this moment." The new governement plans on adressing youth unemployment and training through partnerships within the continent and beyond.  There is also a heavy focus on fighting corruption within the various parties that can be found in South Africa as well as strengthning infastructure and corporation between political parties in a means of empowering the entire country.
Monday's cabinet reshuffle also saw Ramaphosa add new faces and remove some ministers allied to Zuma, who was ordered by his own African National Congress party to step down two weeks ago.
His nine years as president were marked by multiple corruption allegations, economic mismanagement and disputed appointments. Zuma denies any wrongdoing.
Ramaphosa, 65, hailed a "new dawn" after his inauguration and has promised to fight the corruption corroding Africa's most industrialized economy.-USN
What Twitter Has to Say:
I assume the appointment of Bathabile Dlamini at the ministry of women is because it's going to be the first to be dissolved in the cabinet review. It was a ridiculous ministry from the beginning and has achieved next to nothing. Two birds, one stone. #CabinetReshuffle

— Verashni Pillay (@verashni) February 26, 2018
Good regards to BHEKI Cele I know he will do a good job bopha Ndosi #CabinetReshuffle

— ANC Elections Chair (@MbalulaFikile) February 26, 2018
Speaking on behalf of all SA women, from now on,, we are all males until Bathabile is removed. #CabinetReshuffle ??

— Mikateko Ndlovu (@Mikateko_Ndlovu) February 26, 2018
How can Malusi Gigaba be Minister of Home Affairs when he has a history of not being able to handle his own home affairs? #CabinetReshuffle pic.twitter.com/r46zSOQzNx

— Mbaliyezwe Ndlela (@mbali_ndlela) February 26, 2018
Bathabile Dlamini has essentially been rewarded with a promotion into the presidency regardless of the fact that she nearly collapsed the social grants system for the poor. #CabinetReshuffle

— EFF (@EFFSouthAfrica) February 26, 2018
The new Deputy President of the Republic of South Africa is David Mabuza. #cabinetreshuffle pic.twitter.com/h7mIPrhp26

— South African Government (@GovernmentZA) February 26, 2018
ICYMI: South Africa, here are your new ministers:

New Deputy President: David Mabuza. #CabinetReshuffle : pic.twitter.com/EMDWkWHoE1

— Karabo Mokgoko ? (@Karabo_Mokgoko) February 26, 2018
Naledi Pandor has 3 university degrees to her name: BA in History and English. Masters from University of London, Pandor was awarded her MA in Linguistics at Stellenbosch University in 1997. #CabinetReshuffle pic.twitter.com/PnG5uC6FEx

— Banele Christopher (@Banele_C) February 26, 2018
#CabinetReshuffle polo drivers relax, y'all can park your polos everywhere, anytime pic.twitter.com/gc2LDZoOxn

— Thomas Bathabile (@BathabileThomas) February 26, 2018
President Cyril Ramaphosa announces changes to the National Executive #CabinetReshuffle pic.twitter.com/RBZo32Qc79

— SA Gov News (@SAgovnews) February 26, 2018
Bathabile Dlami's ringtone right now.. Destiny's Child – Survivor #CabinetReshuffle pic.twitter.com/b9HfStIdLW

— ㅤLowkey Everything™? (@Glencorn_Mks) February 26, 2018
#CabinetReshuffle Astoundingly Bathabile Dlamini speaks for women and Malusi Gigaba heads up Home Affairs. Was this the price @CyrilRamaphosa paid for bringing back Nhlanhla Nene as Finance Minister and putting Pravin Gordhan in charge of Public Enterprises?

— Debora Patta (@Debora_Patta) February 26, 2018
Malema's predictions?#CabinetReshuffle
RT if you also think is time Malema accept hes calling as a sangoma pic.twitter.com/pzRxdxLuYT

— Dzaddy_mO® (@mO_Moremi) February 26, 2018
Minister of Reliable Information: Julius Malema. ? #CabinetReshuffle#CabinetReshuffle2018 pic.twitter.com/pMeD7Rm9WA

— Thandeka Zulu (@ThandekaZulu_) February 26, 2018
Guess who back y'all #CabinetReshuffle pic.twitter.com/sX5ozHnJkW

— SaxonwoldShebeen (@StateShebeen) February 26, 2018
General Bheki Cele entering the Police Ministry like ??? #CabinetReshuffle pic.twitter.com/TN48wkAIiZ

— MaDlamini (@SpokyJama) February 26, 2018
#CabinetReshuffle Pravin Gordhan returns as Minister of Public Enterprises pic.twitter.com/E5dqkdaveN

— SA Gov News (@SAgovnews) February 26, 2018
Ministers for Communications and Energy #cabinetreshuffle pic.twitter.com/lYBZwUe0us

— South African Government (@GovernmentZA) February 26, 2018
Ministers for higher Education and Training and Home Affairs #CabinetReshuffle pic.twitter.com/aZ2W55dfMJ

— South African Government (@GovernmentZA) February 26, 2018
This is where Fikile Mbalula belongs. #CabinetReshuffle pic.twitter.com/Cr6KO1PstC

— Man's Not Barry Roux (@AdvBarryRoux) February 26, 2018
#CabinetReshuffle Fekile Mbalula now Minister of Black Twitter pic.twitter.com/Di3vsx7dlC

— SkatanaSaVaal?? (@kele_Tebza) February 26, 2018
Something is off about about my President. #CabinetReshuffle pic.twitter.com/Wsnms1k8HR

— THABANG M♍ (@THIZZY_M) February 26, 2018
My views on the #CabinetReshuffle given the limitations pic.twitter.com/iSMHUQWbKK

— Tshepo biko Lethea (@tlethea) February 26, 2018
This #CabinetReshuffle is about CR & NEC moves to stabilise party and state for provincial & national victory in 2019. Some compromises with this goal in mind sensible.

— Graeme de Bruyn (@graemedebruyn) February 26, 2018