Toronto Host The Santa Clause Parade and Another Win for the Argos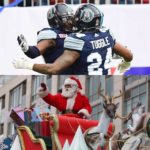 The city of Toronto hosted its annual Santa Clause Parade today in the downtown core. Thousands of people lined the streets from early Sunday morning from Christie Pits on Bathurst to St. Lawrence Market on Front Street.
Under the leadership of John Tory, the city seemed to handle the crowd well with officers placed at various checkpoints throughout the core that effectively navigated oncoming traffic as well as pedestrians.
Tory took to Twitter to not only commend the participants of the parade but also to congratulate the Toronto Argonauts who played against the Saskatchewan Roughriders in a close matching beating them by 1 point the final score being 10-9; making the Argos number 1 in the East.
From the Santa Clause Parade to the Argos! Now at @BMOField to cheer on the @TorontoArgos with some help from Dart Guy @LeafsMaz20! #ArgosFootball #PullTogether.-John Tory
Sports Net Reported:
"It's tough when you lose a ballgame of this magnitude but on top of that when you play good defense all day and it's right there when you need it and you just can't get a stop," Saskatchewan head coach/GM Chris Jones said. "We got some shots on (Ray) but he's a tough guy, he got right back up and made the play when he needed to.

"Yeah, he made a perfect throw there to Wilder when he had to have it. That's vintage Ricky Ray."

Christion Jones, despite registering the game's biggest play to that point, admitted he didn't feel comfortable when Toronto took possession

What Instagram Has to Say:

https://www.instagram.com/p/BbshE0bneab/?hl=en&tagged=argos

https://www.instagram.com/p/Bbr94DUlxtn/?hl=en&tagged=argos

https://www.instagram.com/p/BbsFzypl8JC/?hl=en&tagged=argos

https://www.instagram.com/p/BbskQBOBlWk/?hl=en&tagged=argos

https://www.instagram.com/p/BbsSMHPDx6i/?hl=en&tagged=argos

https://www.instagram.com/p/BbssOdTg661/?hl=en&tagged=santaclauseparade

https://www.instagram.com/p/BbsuMtAAZJm/?hl=en&tagged=santaclauseparade

https://www.instagram.com/p/Bbst0Rqgvep/?hl=en&tagged=santaclauseparade

https://www.instagram.com/p/BbsuSdHAsYn/?hl=en&tagged=santaclauseparade

https://www.instagram.com/p/BbsZXWDB2hh/?hl=en&tagged=santaclauseparade

https://www.instagram.com/p/BbsdmT7AWJi/?hl=en&tagged=santaclauseparade

https://www.instagram.com/p/BbsC7I7BV3R/?hl=en&tagged=santaclauseparade

https://www.instagram.com/p/BbriC_xFPP1/?hl=en&tagged=santaclauseparade

https://www.instagram.com/p/Bbr1gYtltu0/?hl=en&tagged=santaclauseparade

https://www.instagram.com/p/BbsbkYFl9Gz/?hl=en&tagged=santaclauseparade