Trump pulling out of NAFTA?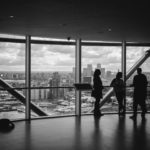 The Canadian Prime Minister is in Mexico City along with his wife Sophie Grégoire Trudeau and met with the Mexican President Enrique Peña Nieto and his wife, singer Angélica Rivera Hurtado. The President of Mexico was invited to review the Canadian National Guard during the ceremony and the two world leaders had a sit-down.
Among the many things they talked about was the North American Free Trade Agreement.
Earlier in the week Prime Minister Trudeau had a similar sit down with the United States President Donald Trump and his wife Melania Trump. Despite the awkwardness of the meeting, President Trump stood firm on his stance of creating a stronger NAFTA for Americans. President Trump has since gone on to allude to the United States possibly dropping out of NAFTA completely.
"I think Justin understands this, if we can't make a deal, it'll be terminated and that will be fine," Trump said. "We have to protect our workers. So we'll see what happens with Nafta, but I've been opposed to Nafta for a long time, in terms of the fairness of Nafta."-The Guardian
Prime Minister Trudeau seems to not be as worried as Mr. Trump would think when it comes to the fairness of the deal because at his meeting with the Mexican leader he stressed the point of the cooperation and the continued building of all the nation states involved.
The Chamber estimates that about 14m US jobs depend on trade with Canada and Mexico, and more than $1bn in commerce is conducted daily across the southern and northern borders.-The Guardian
Pictures:
https://www.instagram.com/p/BaK4w1Klbfy/?hl=en&taken-by=justinpjtrudeau
https://www.instagram.com/p/BaKH7Jzhi1I/?hl=en&taken-by=justinpjtrudeau
https://www.instagram.com/p/BaHxIbwhFNY/?hl=en&taken-by=justinpjtrudeau
https://www.instagram.com/p/BaJmlyTlSBd/?hl=en&taken-by=sophiegregoiretrudeau
https://www.instagram.com/p/BZy0FZxBNkR/?hl=en&taken-by=angelicariveradep