5 Tips to a Peaceful Life – Be Mindful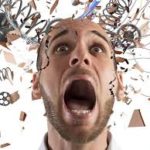 Be mindful of What You Take In – Your mind can be the most empowering part or most detrimental part of your being. What we put in will come out in some form or another. If you listen to or watch things that impact you negatively, your mind will react to that. Before an act becomes action, it begins with a thought. Our thoughts are usually generated by something we have seen or heard. Therefore, we have to be mindful of the sights and sounds we allow to be downloaded into our mind.
Know Who's in Your Circle – What type of friends and/or people do you have around you? The company we keep matters whether we believe it or not. It is imperative to keep people around you that motivate you, inspire you, and uplift you. Positive conversations can go a long way, not just in our day, but in our lives.
Keep Setting Goals – Setting goals is a way to avoid being bored, which leads to doing unhealthy things to fill the time. When you have goals you are always working towards something productive and positive. It keeps your mind on wanting to accomplish a task. We get gratification when we accomplish something that we have diligently worked toward.
Try Something New – Doing the same things everyday can also lead to boredom. Many people become depressed because they feel like they are in a rat race. They go to work, go home, and the day starts over again. Trying new things takes you out of your comfort zone and allows the mind to experience something new and get you out of your rut.
Do Things That You Love – Partake in the healthy things that bring you the most joy. For example, I am not writing this article for the pay, but first and foremost, because writing is one of the things I love. Utilize your passions to be your driving force for peace. Peace alleviates stress.
STATISTICS STATE THAT SEVERE STRESS AND DEPRESSION INCREASE RISK OF EARLY DEATH…..NOW I PRESENT THE QUESTION, HOW IMPORTANT IS YOUR PEACE?