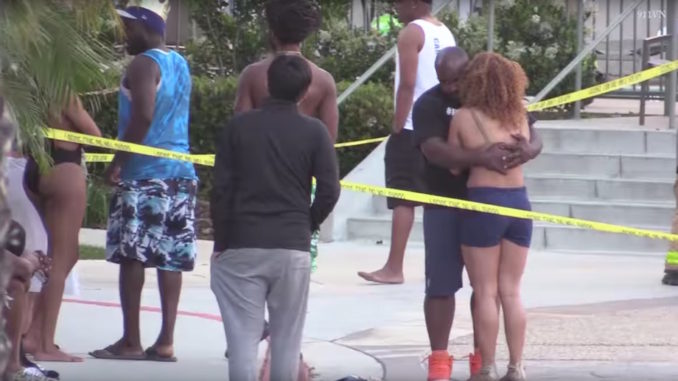 Seven people were injured and one woman died after a gunman opened fire at a University City apartment complex pool Sunday afternoon, police said.
The gunman, identified as 49-year-old Peter Selis, was killed by San Diego police.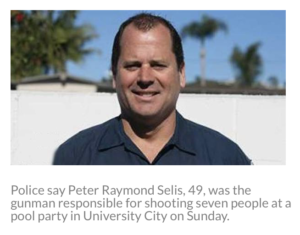 Dozens of San Diego police officers responded to the La Jolla Crossroads Apartments at Judicial Drive and Sydney Court after getting calls at 6:07 p.m. from numerous witnesses of a mass shooting.
Three police officers approached the pool area and the gunman appeared to point his gun at them, according to Zimmerman. The officers then shot and killed him.
Selis was believed to have been a resident of the apartment complex where the shooting took place. Zimmerman said the motive for the shooting remained unclear.
Prior to the shooting, a large group of people was celebrating a birthday at the pool, according to police.
One man who attended the gathering told FOX 5 the suspect was sitting in a chair at the pool. The witness' friend approached the suspect and offered for him to join their party, but the man declined to come over.
Ten minutes later, the gunman, who remained seated, started shooting at the group, the witness said. He reloaded his gun and continued to shoot as people ran out of the pool area, he said.
The man who killed a woman and wounded six others Sunday at a pool party in University City was despondent after a break-up and shot his victims while on the phone with his ex-girlfriend, San Diego Police Chief Shelley Zimmerman said Monday.
Peter Selis, 49, lived at the La Jolla Crossroads apartments on Judicial Drive and fired into a crowd of poolside partygoers with what was described as a large caliber handgun just after 6 p.m. Sunday, according to San Diego police.
Selis, who was reportedly drinking a beer during the gunfire, called his ex-girlfriend during the violent attack to say he had just shot two people and police officers had arrived, Zimmerman said.
"Selis stayed on the phone, talking to his ex-girlfriend as he continued to fire his weapon," Zimmerman said. "It is apparent that Selis wanted his ex-girlfriend to listen in as he carried out his rampage."
Police say Peter Raymond Selis, 49, was the gunman responsible for shooting seven people at a pool party in University City on Sunday.
One woman died from her injuries. Two victims remain in critical but stable condition, but they and the other victims are expected to survive, Zimmerman said.
Although the shooting victims were identified as four black women, two black men and a Hispanic man, Zimmerman said Monday that the shooting spree was not planned or racially motivated.
"The victims just happened to be present at the moment in time that Selis decided to carry out this spontaneous act of violence. There is zero information to indicate that race played a factor in this terrible and horrific crime," Zimmerman said.
Several witnesses at the apartment complex called 911 to report the shooting. One witness said the gunman showed no apparent emotion as the carnage unfolded.
"He was very docile. In his facial expression, no smiling, laughing, talking," Demetrius Griffin, a Seattle-area man who attended the party, told CNN. "He let off eight rounds, reloaded, let off another eight, reloaded again."
Nobody in the party knew the shooter, who was sitting in close proximity to an exit, Griffin said. As people began scrambling and screaming the shooter "didn't say a single word," he said.
A police helicopter crew alerted three officers on the ground that Selis had reloaded and was shooting at the partygoers. When police officers arrive, Selis began firing at them.
"Our sergeant and two of the officers shot toward the suspect, striking him, and the suspect was pronounced deceased at the scene," Zimmerman.
Mayor Kevin Faulconer praised police and fire personnel for their "heroic actions" in responding to the situation.
"Truly quick actions, quick responses, the decisions that they made … absolutely precluded further bloodshed," Faulconer said. "It was remarkable teamwork and effort under extraordinary circumstances yesterday."
The gunman's family members reportedly told police they knew Selis was depressed after the breakup with his girlfriend but they had no idea he would carry out the deadly shooting.
Selis, a mechanic at a Ford dealership, was also deeply in debt and filed for bankruptcy twice, once in 2009 and again in 2015, according to court records. Police don't believe Selis has a criminal history.
Source: Fox 5 News
The Latest News From GrindFace TV, your source for Viral Content.
Visit GrindFace Apparel