2 Bodies Found in Joshua Tree National Park an Apparent Murder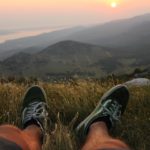 The bodies of a California couple who disappeared on July 28, was recovered last Sunday. The couple has been identified as 20-year-old Rachel Nguyen and 21-year-old Joseph Orbeso. Their bodies were found at Joshua Tree National Park.
Police have ruled the deaths as of today as an apparent murder-suicide. The hikers lived in Orange County at the time of their death. They were reported missing a day after they left for their hike when the rental company noticed the car had not been checked in.
During the first search in July, there was no evidence to suggest where the hikers might be and it was originally thought the couple ran out of food and water after getting lost. Initially, there were footprints which did not lead investigators to the couple.
According to investigators on Sunday the bodies of the two hikers was found under a tree. The search consisted of 250 search and rescue members and more than 2100 hours searching for the missing couple.
During autopsy, injuries consistent with a gunshot wound were located on both Nguyen and Orbeso. Based on evidence located at the scene, detectives believe Orbeso shot Nguyen, then shot himself. The investigation into Orbeso's actions remain under investigation. –Morongo Basin Sheriff's Departmant
Police are asking anyone with information to come forward. 1800-78-CRIME(27463)