Former Nobel Peace Prize winner Kofi Annan dead at 80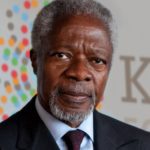 KOFI A. ANNAN of Ghana , the seventh Secretary-General of the United Nations, served from 1997 to 2006 and was the first to emerge from the ranks of United Nations staff.
One of Mr. Annan's main priorities as Secretary-General was a comprehensive programme of reform aimed at revitalizing the United Nations and making the international system more effective. He was a constant advocate for human rights, the rule of law, the Millennium Development Goals and Africa , and sought to bring the Organization closer to the global public by forging ties with civil society, the private sector and other partners.-United Nations
Former UN chief and Nobel peace laureate Kofi Annan dies aged 80 https://t.co/Iss4Ww6T4b

— Reuters Top News (@Reuters) August 18, 2018
The world has lost a great man in Kofi Annan. I will miss him.

— George Soros (@georgesoros) August 18, 2018
We mourn the loss of Kofi Annan, a relentless champion for peace and a passionate ambassador for Sesame Street and the world's children. pic.twitter.com/b0ovPdQ8I9

— Sesame Street (@sesamestreet) August 18, 2018
His foundation announced in a tweet on Saturday that Annan "passed away peacefully" after a short illness on Saturday in the Swiss city of Bern. It did not provide details but remembered him as a figure who radiated "genuine kindness, warmth, and brilliance in all he did."-VOX
Kofi Annan was a guiding force for good. I join the world in mourning his loss. In these turbulent and trying times, his legacy as a global champion for peace will remain a true inspiration for us all. https://t.co/psJ9viPIeu pic.twitter.com/SKfBk5zaY2

— António Guterres (@antonioguterres) August 18, 2018
Kofi Annan has died. He was one of the world's most celebrated diplomats and a charismatic symbol of the United Nations who rose through its ranks to become the first black African secretary-general. He was 80. #KofiAnnan #Kofihttps://t.co/0EpIjMX1OC

— Shomari Stone (@shomaristone) August 18, 2018
Kofi Annan, the first black African to lead the United Nations, has died at age 80 https://t.co/av0HMc6bk6 pic.twitter.com/IJR4TWWbY6

— CNN (@CNN) August 18, 2018
During his time at the UN, Annan oversaw both triumph and tragedy. He was awarded the Nobel Peace Prize in 2001 for helping to revitalize the UN and as the New York Times writes crafted a new "norm of humanitarian intervention" for the organization. While he was UN peacekeeping chief, the body saw two of its greatest failures during the Rwandan genocide in 1994 and the massacre of thousands of Bosnian Muslims in Srberenica in 1995.-VOX
Kofi Annan was a wonderful listener, and I always felt humbled in his company. He was a champion of humanity and a peacemaker. He really cared for everybody https://t.co/hUoQEaHPNG pic.twitter.com/RRda7EVX1u

— Richard Branson (@richardbranson) August 18, 2018
Kofi Annan dedicated his life to building a more just and peaceful world.

His efforts in support of conflict resolution and human rights will be remembered. He looked for a peaceful path when others looked for war.

My thoughts are with his family and loved ones.

— Jeremy Corbyn (@jeremycorbyn) August 18, 2018
He lived and worked for global peace, security and sustainable development in very challenging times. A proud son of Ghana and Africa.
RIP Kofi Annan. pic.twitter.com/xevF6TZdOu

— John Dramani Mahama (@JDMahama) August 18, 2018
It is with immense sadness that the Annan family and the Kofi Annan Foundation announce that Kofi Annan, former Secretary General of the United Nations and Nobel Peace Laureate, passed away peacefully on Saturday 18th August after a short illness… pic.twitter.com/42nGOxmcPZ

— Kofi Annan (@KofiAnnan) August 18, 2018
UN human rights chief Zeid Ra'ad Al Hussein said he was "grief-stricken" over Annan's death, adding that he was a "friend to thousands and a leader of millions."
"Kofi was humanity's best example, the epitome, of human decency and grace," he said. "In a world now filled with leaders who are anything but that, our loss, the world's loss becomes even more painful."-CNN
We express our profound sorrow at the passing away of Nobel Laureate and former UNSG Mr. Kofi Annan. The world has lost not only a great African diplomat and humanitarian but also a conscience keeper of international peace and security.

— Narendra Modi (@narendramodi) August 18, 2018
Former UN Secretary General Kofi Annan has died at 80. https://t.co/C1LxjVihnz

— NBC News (@NBCNews) August 18, 2018
In memory of Kofi Annan: https://t.co/I41leZ5tI2

— Vogue Magazine (@voguemagazine) August 18, 2018
Mr. Annan joined the UN system in 1962 as an administrative and budget officer with the World Health Organization in Geneva . He later served with the Economic Commission for Africa in Addis Ababa , the UN Emergency Force (UNEF II) in Ismailia , the United Nations High Commissioner for Refugees (UNHCR) in Geneva , and in various senior posts in New York dealing with human resources, budget, finance and staff security. Immediately before becoming Secretary-General, he was Under-Secretary-General for Peacekeeping . Mr. Annan also served as Special Representative of the Secretary-General to the former Yugoslavia (1995-1996), and facilitated the repatriation from Iraq of more than 900 international staff and other non-Iraqi nationals (1990).-United Nations
My heartfelt condolences to the family of Kofi Annan. An invaluable proponent of world peace, justice, and equality. Humanity has lost a great champion of peace.

— Aliko Dangote (@AlikoDangote) August 18, 2018
Kofi Annan was always the consummate diplomat–personally and professionally–but he understand that his highest priority as UN chief was to stand up for those facing violent abuse and repression, even if that meant upsetting powerful governments. https://t.co/451MjzTfP9 pic.twitter.com/55pbRLjngD

— Kenneth Roth (@KenRoth) August 18, 2018
I'll always remember Kofi Annan, whatever his other faults, for using the word 'illegal' to call out both the Iraq invasion and the Israeli occupation. Brave and much-needed on both occasions.#RIP

— Mehdi Hasan (@mehdirhasan) August 18, 2018
Annan was chair of The Elders, an independent group of global leaders working for peace and human rights founded by Nelson Mandela. Gro Harlem Brundtland, the former prime minister of Norway and the body's deputy chair, said she and her colleagues were devastated by Annan's death.
"Kofi was a strong and inspiring presence to us all, and The Elders would not be where it is today without his leadership. Throughout his life, Kofi worked unceasingly to improve the lives of millions of people around the world," she said.-The Guardian
So sad to hear about the passing of Kofi Annan earlier today. My thoughts are with his family and loved ones. A truly global statesman and advocate for peace. He will be missed

— Diane Abbott (@HackneyAbbott) August 18, 2018
Former U.N. Secretary-General Kofi Annan dies at age 80 https://t.co/ZOnYldzBjE pic.twitter.com/DV9CpvdNcD

— Los Angeles Times (@latimes) August 18, 2018
Kofi Annan, seventh secretary general of the United Nations and 2001 Nobel Peace Prize honoree, has passed away. Our thoughts and condolences are with his family. https://t.co/5K2WZuZoY2 pic.twitter.com/y0TJm2DLIt

— NAACP (@NAACP) August 18, 2018
Before becoming secretary-general, he was under-secretary-general for peacekeeping and also served as special representative of the secretary-general to the former Yugoslavia between 1995 and 1996.
The UN peacekeeping operation faced two of its most criticised incidents under Annan's leadership for its conduct during the Rwanda genocide in 1994 and the massacre in the Bosnian town of Srebrenica in July 1995.-The Guardian
So very saddened by the death of Kofi Annan – an exceptional man tested by our cascading history. He did all in his power to uplift humankind..

— Jon Snow (@jonsnowC4) August 18, 2018
Kofi Annan didn't just talk about building a more just and peaceful world, he dedicated his life to doing it – and the world is a better place because of him. It's now up to all of us to carry his work forward.

— Justin Trudeau (@JustinTrudeau) August 18, 2018
Fmr. President Obama on death of fmr. UN Secretary General Kofi Annan:

"Kofi never stopped his pursuit of a better world, and made time to motivate and inspire the next generation of leaders. Michelle and I offer our condolences to his family and many loved ones." pic.twitter.com/AouJ2JjNU8

— NBC News (@NBCNews) August 18, 2018
Kofi Annan was a beacon of light to the international community, a consummate humanitarian, and a friend to all those who strive to make the world a better place. All of us at the IMF mourn his passing, but continue to be inspired by his legacy.

— Christine Lagarde (@Lagarde) August 18, 2018
Kofi Annan, the first black African to lead the United Nations and Nobel Laureate has died at age 80.

He was the quintessential diplomat; a man who was able to bring people together.

This is a great loss to the world of diplomacy and to all who seek peace, justice and equity. pic.twitter.com/hVvMXK9HgE

— Andrew Holness (@AndrewHolnessJM) August 18, 2018
My condolences on the demise of Mr Kofi Annan.The Former UN Secretary General and Nobel laureate was a great son of Ghana, & a long-standing friend of India. He was a respected voice in global affairs & South-South cooperation.

— Pranab Mukherjee (@CitiznMukherjee) August 18, 2018
From our archives: In 2015, DW spoke to Kofi Annan about the refugee crisis and his efforts to bring peace to Syria. Here's a rough cut of that interview: pic.twitter.com/PhTkr7IOVw

— dwnews (@dwnews) August 18, 2018
Kofi Annan set an example of reconciliation, leadership, integrity and service, underpinned by deep Christian faith. We remember him in prayers of great gratitude.

"Blessed are the peacemakers, for they shall be called children of God." (Matthew 5:9)

— Archbishop of Canterbury (@JustinWelby) August 18, 2018
'He dedicated his life to building a more just and peaceful world.'

World leaders react to Kofi Annan's death https://t.co/bgoN0suiBQ pic.twitter.com/75H9NP63Bv

— Al Jazeera English (@AJEnglish) August 18, 2018
Mourning the loss of Kofi Annan, the first black African Secretary General of the UN, a Nobel Prize laureate & a powerful advocate for peace, human rights & dignity for all people. His contributions to Africa & the world will be remembered for generations. https://t.co/QxSnmwQeTp

— Sen. Cory Booker (@SenBooker) August 18, 2018
A bouquet of flowers at the official portrait of Kofi Annan, in the lobby of UN Headquarters in New York. #sabcnews pic.twitter.com/5bfXcmv3WX

— Sherwin Bryce-Pease (@sherwiebp) August 18, 2018
Blessed are the peace makers…..
Rest in Peace Kofi Annan. Your legacy lives on… pic.twitter.com/f9gpsra3Jj

— Churchill (@MwalimChurchill) August 18, 2018
"You are never too young to lead, and we are never too old to learn" — Kofi Annan

The world Has lost a rare gem.

Rest on Kofi Annan. #RIPKofiAnnan pic.twitter.com/jBwXfA7Khp

— YBLNigeria (@yblnigeria) August 18, 2018
This distinguished gentleman impacted many lives. Kenya has lost a friend. Africa has lost a son. @OneYoungWorld has lost a guiding force and I a mentor.
He will be missed. My heart is heavy.
Lala salama Kofi Annan. pic.twitter.com/VlaLH0zj2C

— Caroline Mutoko (@CarolineMutoko) August 18, 2018
CIC @Julius_S_Malema's Condolence Message on the passing of former UN Secretary General Kofi Annan #RIPKofiAnnan pic.twitter.com/8yHz8ueqw3

— Economic Freedom Fighters (@EFFSouthAfrica) August 18, 2018
Today, the world lost one of our most tireless advocates for human rights and development. Kofi Annan represented what it means to be a global citizen and care for all those who live in it. It was an honour to meet him – the world has lost a true leader. pic.twitter.com/N7xQdyJf8h

— Navdeep Bains (@NavdeepSBains) August 18, 2018
Kofi Annan was a true global citizen. He tackled the challenges of leading the United Nations with an unwavering vision of encouraging us all to create a world that works for everyone. My condolences to his family and many colleagues. pic.twitter.com/UmqWKJg6pW

— Elizabeth Dowdeswell (@LGLizDowdeswell) August 18, 2018
'The real work of the UN is the manufacture not of actions but of legitimations'

Perry Anderson on the inglorious career of Kofi Annanhttps://t.co/W3pGRjUXZF pic.twitter.com/Yauutr9hoR

— London Review of Books (@LRB) August 18, 2018
RIP Kofi Annan. On my sister's first day at the Gates Foundation she got to meet him, and it's one of the best stories she tells.

— Akilah Hughes (@AkilahObviously) August 18, 2018
Almost certain I quoted this in my college applications: "To live is to choose. But to choose well, you must know who you are and what you stand for, where you want to go and why you want to get there." — Kofi Annan

— Tariro Mzezewa (@tariro) August 18, 2018
Thank you for the leadership and dedication for the humanity over the years, #KofiAnan.

As a Secretary General, Kofi Annan visited the Maldives to witness the destruction caused by the tsunami first hand in 2005.

Photo by Maumoon Sulaiman pic.twitter.com/vIqPJFHbXC

— UN in the Maldives (@UNMaldives) August 18, 2018
Former U.N. chief and Nobel peace laureate #KofiAnnan dies aged 80 https://t.co/edOWGVVbOL

— Bate Felix Tabi Tabe (@BateFelix) August 18, 2018
When I got UN scholarship in 1997, Kofi Annan was the Secretary General.He hosted lunch for 4 of us frm 4 different countries in UN HQ in Newyork.Were impressed by his politeness/humbleness.He shook hands with us/shared table for lunch.Can't believe he is no more. My condolences.

— ashutosh (@ashutosh83B) August 18, 2018
"Gender equality is more than a goal in itself. It is a precondition for meeting the challenge of reducing poverty, promoting sustainable development and building good governance. " – Kofi Annan

Rest in Power#KofiAnnanRIP https://t.co/Rq62Ezv3IX

— Karine Jean-Pierre (@K_JeanPierre) August 18, 2018
Incredibly sad day to wake up to the news that the wonderful Kofi Annan is no longer with us – he was an extraordinary individual who committed his life to guiding the world to a better place https://t.co/hUoQEaHPNG pic.twitter.com/iafxqvPsdI

— Richard Branson (@richardbranson) August 18, 2018
To live is to choose. But to choose well, you must know who you are and what you stand for, where you want to go and why you want to get there.

Kofi Annan

— Reham Khan (@RehamKhan1) August 18, 2018
I join the voices of thousands to mourn the passing of Kofi Annan and offer my deepest condolences to his wife Nane and his family. We have lost an inspiring leader, a man of warmth and compassion, a resounding voice for justice and peace. pic.twitter.com/MfWzSQ5Xzy

— Louise Arbour (@louise_arbour) August 18, 2018
Mourning the loss of former Secretary-General Kofi Annan, our friend and a UN Foundation Board member since 2007. At 80, he was still engaged, committed and determined to make the world a better place. We will miss him. pic.twitter.com/pq9lkwrQzf

— UN Foundation (@unfoundation) August 18, 2018
Kofi Annan: Ex-United Nations secretary-general remembered as untiring peace negotiator: Kofi Annan has died at age 80. For 10 years, he was at the forefront of world politics. He continued to work as an ambassador for peace even after leaving his post… https://t.co/TvhH7vRzuD pic.twitter.com/XcJYCiZbYQ

— Richard Jackson (@rjack2136) August 18, 2018
So saddened to learn the passing of former UN Secretary General and Nobel peace laureate, Kofi Annan. One of the greatest diplomats and humanitarians. Thank you for all your great work. RIP Kofi. You'll be really missed. Your legacy will live on forever because legends never die. pic.twitter.com/7MDsBFj2EG

— Walcott (@JrMoe_) August 18, 2018
World Mourns Loss Of Kofi Annan. https://t.co/NoAOAXLAU4 pic.twitter.com/c0JGpMcR0c

— Channels Television (@channelstv) August 18, 2018
'Africa … has lost a special human being.' Tributes pour in after the death of Kofi Annan. https://t.co/2SJOpHB9O7

— AP Africa (@AP_Africa) August 18, 2018