Israeli Airstrike Against Syria pilots parachuted to safety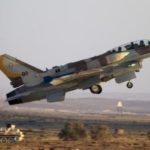 BBC news is calling the Israeli air strike against Syria the biggest since 1982.
https://www.youtube.com/watch?v=uNzRVQCVY2U
The response was the "most significant attack" of its kind against Syria since the 1982 Lebanon war, said senior Israeli air force general Tomer Bar.

The F-16 jet went down during a mission that followed an Iranian drone launch into Israeli territory, Israel says.

The two pilots parachuted to safety before the crash in northern Israel.

Israel says it responded with a second wave of strikes on both Syrian and Iranian military targets operating inside Syria.

Israeli air strikes in Syria are not unusual, BBC Middle East correspondent Tom Bateman says, but the loss of an Israeli fighter jet marks a serious escalation.
What Twitter has to say:
Israel has bombed Syria 100+ times in the past 6 years. Not to mention it has been colonizing the Syrian Golan Heights for 50 years. For Israel to claim to be the victim today is laughable. https://t.co/XNzWBMiFt7 https://t.co/mK5nVDaSvR

— Dan Cohen (@dancohen3000) February 10, 2018
Open war has basically broken out between Israel and Syria. https://t.co/ezwa4oVXMg

— Lee Camp [Redacted] (@LeeCamp) February 10, 2018
The number of people in my timeline today that side with Syria and Iran over Israel is quite something. The level of moral myopia required to cheer on countries that drop chemical weapons on their own civilians and hang homosexuals from cranes in public squares.

— Julie Lenarz (@MsJulieLenarz) February 10, 2018
Syria shoots down intruding Israeli F-16 jet; Israel makes bogus claims. Here is why! pic.twitter.com/VFPE0EGqai

— Press TV (@PressTV) February 10, 2018
I have been warning for some time about the dangers of Iran's military entrenchment in Syria. Iran seeks to use Syrian territory to attack Israel for its professed goal of destroying Israel. pic.twitter.com/bfWinriX3h

— PM of Israel (@IsraeliPM) February 10, 2018
Syria, where the battleground is
Russia vs U.S.
Iran vs Israel
Israel vs Hezb
Turkey vs Kurds
Kurds vs IS
IS vs Assad
Opp vs IS
Assad vs Opp
Turkey vs Assad
U.S. vs Iran
Hezb vs Opp
NATO vs NATO
Opp vs Kurds
U.S. vs U.S.
Iran vs Opp
EU vs Refugees
War is almost over, they said.

— Sakir Khader (@sakirkhader) February 10, 2018
#Putin urges #Netanyahu to avoid dangerous escalation following #Syria raids https://t.co/eBcOCEEKC9 pic.twitter.com/Xpdv5uNfJ9

— RT (@RT_com) February 10, 2018
Moments ago, IAF aircraft, targeted the Syrian Aerial Defense System & Iranian targets in Syria. 12 targets, including 3 aerial defense batteries & 4 Iranian military targets, were attacked. Anti-aircraft missiles were fired towards Israel, triggering alarms in northern Israel

— IDF (@IDFSpokesperson) February 10, 2018
UN human rights chief condemns bloody week in Syria https://t.co/S8gKCJ6DZF pic.twitter.com/XfTRAeByeG

— CNN (@CNN) February 10, 2018
Whom do you blame more for the escalation in Syria?

— Max Abrahms (@MaxAbrahms) February 11, 2018
Syria, past week:

– Syrian airstrikes kill 200 people in Eastern Ghouta

– American airstrikes kill 100 pro-Assad fighters

– Russian jet downed

– Turkish helicopter downed

– Iranian drone downed by Israel

– Israeli jet downed by Syrians

– Israeli strikes on Syrian regime

— The Spectator Index (@spectatorindex) February 11, 2018
The IDF will act determinately against such severe violations of Israeli sovereignty by Iran and Syria and will continue to act as necessary.
The IDF is ready for various scenarios and will continue to act according to situation assessments.

— IDF (@IDFSpokesperson) February 10, 2018
Israel military targets Iranian drone and strikes Syria, F-16 crashes https://t.co/h1FZdOJRiC

— Fox News (@FoxNews) February 10, 2018
Turkish helicopter shot down by Kurdish militia in Syria's Afrin: Erdogan https://t.co/FOvqoA8tXN pic.twitter.com/qJ00ekPawy

— Reuters Top News (@Reuters) February 10, 2018
Attacks by #Israeli forces on targets in #Syria are cause of serious concern for #Russia – FM https://t.co/7SxQR3DIRD

— RT (@RT_com) February 11, 2018
Israeli Air Force general says Israel's strike in Syria on Saturday was 'the biggest and most significant' since 1982https://t.co/lRAHgAcUYG

— Haaretz.com (@haaretzcom) February 11, 2018