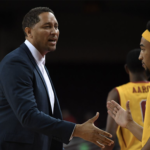 In the world of basketball where many young boys would consider paradise, pray to be in the NBA one day with the hopes of living out their dreams, until they transition into college where reality hits them. The reality of college basketball is that coaches don't always play by the rules even though they expect the players to. USC coaches were recently allegedly busted by FBI agents for agreeing to influence players into retaining certain advisors not because of their work ethics or necessarily their players' best interest but because of their own advancement and greed.
Coaches are expected to teach young college men to have integrity and to be great leaders. Tony Bland has allegedly failed to practice what is often preached by many coaches. Why should the players play their hearts out for their coach? When the coaches gain money and promotions among many other things, while the players walk away with possibly obtaining their dream of entering into the NBA.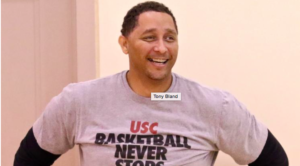 Hopefully parents start educating themselves on the bribes that take place behind closed doors. With the hopes of preventing their kids from falling prey to the vicious cycle of prostitution, because that is what was ultimately done, if what is reported about Tony Bland is found to be true. Would it be safe to say that the college basketball world may not be paradise after all?
Court documents allege that Bland received $13k in bribes from a former NBA agent and a financial adviser: pic.twitter.com/RFTB277KZC

— Joey Kaufman (@joeyrkaufman) September 26, 2017
More details from the FBI allegations: Bland met with Christian Dawkins, the former NBA agent, this July in Las Vegas: pic.twitter.com/mFFR7EKOwM

— Joey Kaufman (@joeyrkaufman) September 26, 2017
By: Saniyyah Mayo