Two men were arrested in Robbery Investigation one man is still at large in Toronto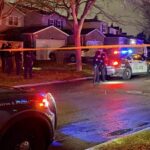 ---
The Toronto Police have arrested two men in connection with a robbery that took place on January 5th, 2022. Between January 5th and 6th two men including a man under 18 were arrested and charged. The robbery took place on Morning Side and Old Finch Avenue and it was reported that the men went into a house at that location and tied up a boy with plastic zip ties. They then proceeded to rob the boy who was alone at home at the time of the incident. After the boy was able to free himself he tried to run after the robbers and after a struggle he was shot in the back and suffered life-altering injuries. Police immediately located one of the men and found that he was in possession of a sawed off shotgun. Officers also seized one Kilo of Fentanyl and a loaded handgun.
22 year old Sanders Tomas was arrested and charged with 10 counts including Robbery with Firearm, Aggravated Assault, Conspiracy to commit an Indictable Offense, Possession Property obtained by crime, along with other charges related to the unlawful carrying of a prohibited firearm. The following day a 17-year old unidentified male was also arrested in connection with the robbery and faced 6 charges including Unauthorized Possession fo a Restricted Firearm, Possession of Schedule I Substance for the Purpose of Trafficking and other weapons related charges.
There was another man who was wanted in relation to the home invasion robbery. Police have identified the man as 19 year old Kody Lim and he is wanted for 5 charges including Robbery with Firearm, Disguise with Intent and Discharge Firearm with Intent to Endanger Life. Kody is described as 5'7, 165 lbs with long hair that could be braided. Lim was arrested on June 1 and appeared in court today.
Lim was also involved in a shooting on Victoria Park Avenue and Parkwoods Village Drive on May 12th, 2022. Lim and a 20 year old Zuhib Mohamed were at large since that incident where a 17 year old boy was the victim of a drive by shooting, another 17 year old was arrested at the time of that incident.