14 Year Old Dies Participating in Shanghai Fashion Week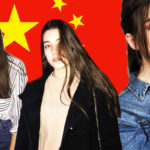 A 14-year-old Vlada Dzyuba died on Saturday in China. Vlada was a participant in Shanghai Fashion Week.  She died after complaining of dizziness after which she was rushed to the hospital. According to sources in China, she died of blood poisoning though some claim she probably died of exhaustion.
The fashion show lasted for up to 13 hours and 2 days after Vlada collapsed in Shanghai she died. Vlada was also found to have chronic meningitis. The young model did not have medical insurance at the time of her death.
A number of young Russian models are recruited to China, with Vlada's capitulation raising questions as to the burdensome working conditions models are subjected to and henceforth exploited. –Scallywag&Vagabond

Meningitis affects the brain and spinal cord, causing inflammation in the lining that surrounds them, says WebMD. In most cases, an infection is a cause. Meningitis can be caused by either a viral or a bacterial infection, states Mayo Clinic. Bacterial meningitis, which is relatively rare, is a more serious form of the disease and can be fatal if left untreated. Without a spinal fluid test, it is difficult to distinguish between viral and bacterial meningitis. However, there are specific symptoms that can be indicative of meningococcal meningitis, a highly contagious strain of bacterial meningitis, according to WebMD. These include pale or blotchy skin; rapid breathing; stiffness and pain in the joints; and a dark red or purple rash, which can be a sign of blood poisoning. If any of these symptoms occur, the patient should seek immediate medical assistance.

In 2013, New York passed a state law that models under 18 can't work after midnight on school nights, in order to protect them from being overworked, The Guardian reports. New York Representative Grace Meng introduced the Child Performers Protection Act to Congress in 2015 to provide protection at a federal level, and it was reintroduced in September. The Council of Fashion Designers of America recommends that designers avoid hiring models under 16 or keeping models under 18 at work past midnight.-TeenVogue