Melania Trump to host Halloween on the South Lawn this Monday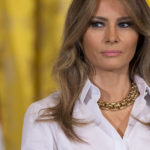 This Monday First Lady Melania Trump will open up the white house South Lawn to "ghosts and goblins of all ages".
The First lady will welcome trick-or-treaters from 4:00p.m-7:00p.m. Parents of school children from the 20 school districts in Washington as well as military families and community organizations.
Please note the following items are not allowed on the White House grounds:
Aerosols of any kind
Animals (except guide dogs)
Any pointed object
Backpacks (oversized)
Balloons
Beverages of any kind
Duffle bags and/or suitcases
Electric stun guns
Fireworks / firecrackers
Food of any kind
Guns / ammunition
Insulated metal containers
Knives of any kind
Mace
Selfie sticks
Smoking (including e-cigarettes)
Tablets (including iPads)
Toy weapons of any kind
Water bottles