President Trump Dubs November 9th World Freedom Day. Still plans to petition congress to build the US, Mexican Border Wall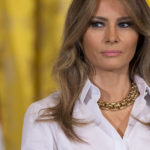 According to the White House president, Trump has proclaimed November 9th "World Freedom Day". The President made the proclamation on the 28th anniversary of the fall of the Berlin wall.
The wall fell on November 9, 1989, when the people of Belin conquered the reign of communism. Deconstruction began in 1990 and finished in 1992. The wall was seen as an "Anti-Fascist Protection Rampart".
The fall of the Berlin Wall spurred the reunification of Germany and the spread of democratic values across Central and Eastern Europe. Through democratic elections and a strong commitment to human rights, these determined men and women ensured that their fellow and future citizens could live their lives in freedom. Today, we are reminded that the primary function of government is precisely this, to secure precious individual liberties. –The White House
The announcement comes on the cusp of political commentator Mica Mosbacher, sitting down with BBC and stating in reference to the US president
Yes, there are prototypes underway to build a wall, as of right now underway for a wall. We do have to get funding through Congress, but, he is moving forward.
Speaking on News night she said: "He will build a wall, it will go through Congress."
During his campaign, Trump said: "I will build a great wall – and nobody builds walls better than me, believe me –and I'll build them very inexpensively. I will build a great, great wall on our southern border, and I will make Mexico pay for that wall. Mark my words." –Express UK
Construction of the Berlin wall began in 1961 and resulted in the closing of the East-West sector boundary and much of East Germany could no longer travel to Wes Germany. Families were split up and west Belin was left isolated.
On World Freedom Day, we recommit to the advancement of freedom over the forces of repression and radicalism. We continue to make clear that oppressive regimes should trust their people and grant their citizens the liberty they deserve. The world will be better for it. – The White House