Trump in a Hurry to Leave Puerto Rico?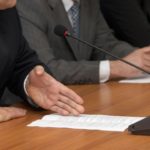 Thanksgiving went by in a hurry and as time stands still four days later, the California wildfire affecting multiple areas and leaving behind insurmountable devastation in its wake is still a sentiment that can be felt all across North America. Not to forget the remains of the islands affected by the string of hurricanes in recent months. In Ontario, it's cold and gloomy and British Columbia which has also experienced a turbulent fire season is finally settling down with the mist of winter blowing in.
ABC news released drown footage of Puerto Rico after hurricane Maria and for rows and rows of houses all one can see is water and desertion.  The media outlet also released pictures of what now remains of parts of California.
https://www.instagram.com/p/BaJsgqkB3Cb/?hl=en&taken-by=abcnews
https://www.instagram.com/p/BaKTc_ZhWKa/?hl=en&taken-by=abcnews
The Whitehouse and President Trump seem to be disconnected, as President Trump took to Twitter to express his sentiments on the funding the island will receive and that U.S. territory Puerto Rico should not expect long-term funding and support.
Puerto Rico survived the Hurricanes, now a financial crisis looms largely of their own making." Say, Sharyl Attkisson. A total lack of accountability says the Governor. Electric and all infrastructure was a disaster before hurricanes. Congress to decide how much to spend…We cannot keep FEMA, the Military & the First Responders, who have been amazing (under the most difficult circumstances) in P.R. forever!                                                              -Donald J. Trump/twitter/oct12
This may be true but with Whitehouse reports that responders arrived a week after the storm, and a week after that the roads were still flooded, many believe that only three weeks after the hurricane may be too soon to be talking about pulling out responders when 90% of the island is still without electricity.